Idylis Freezer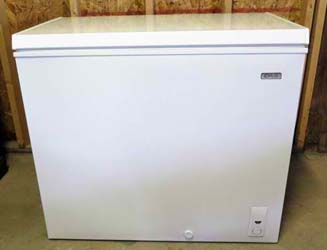 Idylis Freezer is the perfect solution for your food storage needs without sacrificing your budget or entire savings. These freezers are basic yet functional and flexible making them ideal for personal, family or commercial use. With proper use, care and maintenance, these units can serve you for months and years. Plus, that excellent customer service you get from Lowes is an added benefit.
Key Features of the Idylis Chest Freezer
If you are still on the process of deciding which freezer to purchase, here are the key features of Idylis which you might want to consider:
White chest freezer with the following dimensions: 33 inches tall, 21.6 inches deep and widths of 37 inches for the 7.1-cu ft and 28.4 inches for the 5-cu ft variant.
LED power indicator to know that the unit is working. The LED indicator can be seen even at a distance.
Electronic temperature setting for easier and accurate cooling control. Electronic controls are also less prone to malfunction compared to traditional dial knobs.
Cooling capacity of up to -17.8 degrees Fahrenheit
Manual defrosting units with drains located in front making the task of cleaning and maintenance easier.
Listed as safe under CSA, ETL and UL
Extra removable hanging basket as an added compartment for easier food handling.
Current Idylis Freezer Variants or Options
Currently, there are two variants of the freezer available on the market: the Idylis 5-cu ft chest freezer and the larger 7.1-cu ft. For those who need a very basic freezer capable of storing your essential food supply, the 5-cu ft is more than enough. For those who need larger cold storage space, the 7.1-cu ft unit can handle items up to 210 lbs. And these units are not only used for home or personal use. They are a favorite of hobbyists and businessmen as well like those who use these for their kegerator needs.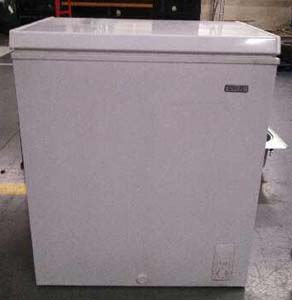 Comprehensive Idylis Freezer Review
Despite being an unpopular brand, this freezer name has received high rating and good feedback from previous and existing users. The following presents a comprehensive and unbiased preview of the feedbacks (both positive and negative) from consumers:
Positive points cited by consumers
Quality at affordable price. Almost all existing users agree that when you buy this freezer brand, you get a functional and quality unit at the most competitive price there is in the market. After months and even years of use, a lot of consumers are happy with it.
Quiet, easy to use, nice looking. It is nice and clean-looking and very simple or straightforward to use. Most satisfied owners also notice a quieter sound these units make compared to their previous freezers.
Consistent freezing temperature. Skeptic about the brand, many owners have actually tested the consistency of their unit's freezing capacity. And to their surprise, these freezers are capable of providing consistent freezing temperatures.
Quick cooling. These units are better at reaching freezing temperatures too.
Save on electricity. A lot of owners also observe that these freezers let them save on electricity costs compared to their old units.
Compact and easy to locate. With their compact designs, there's no problem finding a space for the freezer inside the home in the garage.
Spacious. Despite being compact, freezer storage size is pretty spacious.
And that the task of defrosting is simplified because the drain plug is located in front
The drawbacks or negatives pointed by users
For temperatures 55 to 90 degrees Fahrenheit. The manufacturer's recommendation is to place and use the Idylis deep freezer in areas with temperatures ranging from 55 to 90 degrees. Thus, using it outdoors or in the garage exposed to extreme temperature lows or highs might affect the unit's performance.
Small hanging basket. Some customers are not satisfied with the size of the free storage basket that comes with each unit.
Noise when running. Though some freezer owners are glad about the relatively lower noise that these freezers produce, there are also those that find their units quite noisy.
Rubber lining leak. After several months or years of using the freezer, some owners complain about the weakening rubber lining or weather-stripping. One user suggested a simple solution for this, and that is to heat the rubber for it to expand.
When in doubt for the best freezer you can get on a tight budget, you can never go wrong with the quality, durability, efficiency and performance that the Idylis freezer can only provide.